Product info
Benefits
---
Digestive aid
Helps to digest proteins / Aids in food digestion by breaking down protein
Contains digestive enzymes Bromelain (Pineapple Enzyme) and Protease
A delicious isotonic-capable dietary supplement with the superior delivery of Isotonix
Product contains no added wheat, soy, yeast, gluten, artificial flavour, starch, salt, preservatives or milk.

Research shows that Bromelain and/or protease are important for the following*:
Supports the body's normal healing process 3,4,15,16,18,27,28,33
Promotes optimal cell health2,7,9,10,11,24,29,30
Supports the body's normal inflammatory response3,8,20,23,24,32
Supports the body's normal tissue and recovery repair process 3,4,15,16,18,27,28,33
Supports a healthy immune system 3,8,20,23,24,32
Supports healthy joint function1,3,17,26,31,33
Promotes healthy blood circulation3,12,14,19,21,22,24,25
May help support normal blood viscosity and blood platelet aggregation3,12,14,19,21,22,24,25

*The aforementioned has not been approved or considered by Health Canada. The aforementioned are findings made in diverse scientific studies regarding the ingredients bromelain and protease.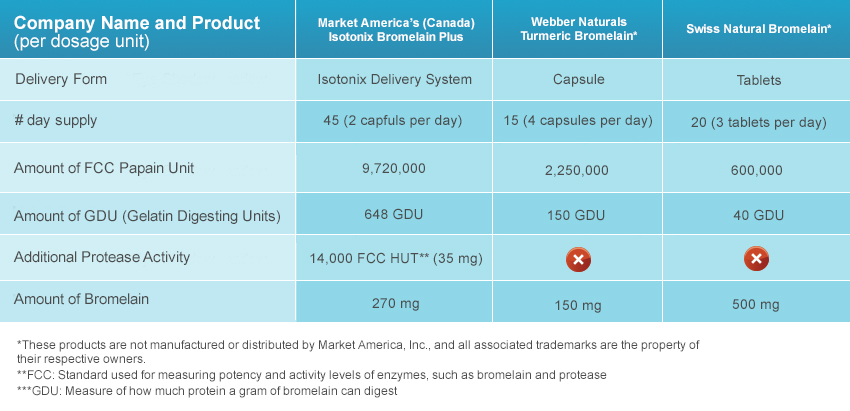 Product Classifications
---
Gluten-Free - The finished product contains no detectable gluten (<10ppm gluten)
No Detectable GMOs - The finished product contains no detectable genetically-modified organisms
Vegan - The product is made without ingredients produced by or derived from animals
Isotonic-Capable Drinkable Supplements - Easy-to-swallow supplements in liquid form are immediately available to the body for absorption
Quality Standards - GMP Operations and Standardised Ingredients
Checked For: Heavy Metals, Microbiological Contaminants, Allergens, Potency, Purity and Identity
Details
---
Your body needs support on the inside and the outside. That's why we've developed Isotonix Bromelain Plus to help support your body, letting you take action to help your body face what life puts in front of you. Thanks to this special formula, Isotonix Bromelain Plus helps support your body's ability to engage in "cellular house cleaning," breaking down that protein layer often found on unhealthy cells in our body. With its combination of bromelain, a very powerful enzyme obtained from pineapples, and protease known to breakdown proteins, Isotonix Bromelain Plus promotes your body's immune system and inflammatory response since it is an is an excellent digestive aid. Pineapple has been used for centuries in Central and South America to treat indigestion and reduce inflammation. While most enzymes are generally considered to be poorly absorbed, Bromelain is one of the most bioavailable of all.

Also, do not be misled merely by high bromelain amounts claimed on some competitor labels. Bromelain can come in various strengths and weights, and this affects the values declared on the labels. Enzymes are best measured not by their weight but by the work they are capable of doing, known as activity level, which is expressed in various unit of measures. In other words, the enzyme activity or potency is a measure of how much enzyme is needed to accomplish a specific reaction within a specified time. Many companies used internationally recognized units such as Food Chemicals Codex (FCC), or Gelatin Digestion Units (GDU) (which is a measure of how much protein a gram of bromelain can digest) and there are others. We recommend when comparing enzyme products, consumers should always make sure measurements are listed using FCC standard codes so you access product purity. So remember, when you buy enzyme products, the weight (usually listed in mg. on the label) means nothing when comparing the activity units of the enzymes. Our Isotonix Bromelain Plus is a top quality product compared to many of its competitors at an impressive 9,720,000 FCC PU and 648 GDU per serving (19,440,000 FCC PU and 1296 GDU per daily serving).

Isotonix Bromelain Plus also works synergistically with the body's own repair system, promoting the body's normal healing process. Most competitor products containing bromelain don't match what you'll find in Isotonix Bromelain Plus, with the amount of Bromelain (potency) plus the superior Isotonix delivery system. In addition, another item to think about when buying an enzyme product like Bromelain is if the product contains fillers. Many supplements on the market, contain these filler ingredients to fill-up a standard sized capsule or to prevent caking or clumping. Plus, since Isotonix Bromelain Plus delivers these ingredients in an isotonic form, you're getting a fast-absorbing, superior delivered product that works quickly and effectively. Support your body in facing what life puts in its way. Isotonix Bromelain Plus is for everybody, every day.
Delivery System
---
Isotonix - the World's Most Advanced Nutraceuticals
Isotonic, which means "same pressure," bears the same chemical resemblance of the body's blood, plasma and tears. All fluids in the body have a certain concentration, referred to as osmotic pressure. The body's common osmotic pressure, which is isotonic, allows a consistent maintenance of body tissues. In order for a substance to be absorbed and used in the body's metabolism, it must be transported in an isotonic state.

Since all Isotonix® dietary supplements are delivered in an isotonic solution, the body has less work to do to obtain maximum absorption. The isotonic state of the suspension allows nutrients to pass directly into the small intestine and be rapidly absorbed into the bloodstream. With Isotonix products, little nutritive value is lost, making the absorption of nutrients highly efficient while delivering maximum results.
Ingredients
---
Bromelain (Ananas comosus)
Bromelain is a mixture of enzymes found in the stems of pineapples. It is distinct from the bromelain found in the pineapple fruit. Bromelain is used as a meat tenderizer in one application but has other mechanisms that support various aspects of health. As a mixture of proteases, bromelain has been used by Europeans for many years for its support of normal inflammatory response. Its components work to help support the body's normal inflammatory response and support the healing process. This is important for healthy joint function and adequate tissue repair, which supports the body's normal recovery process. Because these proteases can interfere with parts of the inflammatory cascade, supplementation may help to promote normal recovery after intense exercise. Bromelain has been extensively studied both in experimental models and clinical studies for its effects on the inflammatory response. Research also shows that bromelain may help support healthy blood viscosity and blood platelet aggregation, promoting healthy circulation. It also supports normal levels of fibrin in the blood, which promotes normal healing. Another study provided support of bromelain for promoting overall general well-being, along with support of comfort and physical function. There is also support for its role in promoting healthy cells. Bromelain also works to digest protein but, when taken on an empty stomach, it is not used as a digestive enzyme but provides systemic effects throughout the body.

Protease
Proteases are proteolytic enzymes that work to break specific peptide bonds or break down a complete peptide to amino acids. Oral proteases taken on an empty stomach are absorbed and carried into the bloodstream where they work to help maintain healthy cellular proteins. As systemic enzymes, proteases support the body's normal recovery process. Combined with bromelain, the proteases help promote the body's normal inflammatory process and support normal healing.
FAQs
---
Who should take Isotonix Bromelain Plus?
Isotonix Bromelain Plus is formulated for everyone, every day. Its unique combination of benefits – supporting the body's normal ability to repair itself, promoting the body's normal processes – make it ideally suited for adults looking to keep their bodies healthy and to help support the body's ability to deal with the wear and tear of everyday life.

What sets Isotonix Bromelain Plus apart from other products? What do GDU and FCC mean?
Proteolytic enzyme potency can be denoted by using various activity units like FCC Papain units (PU), Gelatin Digestion Units (GDU), or Bromelain Tyrosine Units (BTU). Regardless of how the label reads, make sure when comparing products, that the units are the same so that you are comparing correctly what the actual "concentration" or "activity" of the enzyme is being used in the product.

It is not enough to simply look at how much (milligrams or grams) of an enzyme is in a serving. To accurately compare how much active bromelain enzyme is in a serving, always refer to the GDU or PU units.

Our Bromelain Plus contains 0.544 grams of bromelain which is equal to 1296 GDUs or 19,440,000 FCC PU per daily serving. Bromelain Plus is not only Isotonic, but it also contains another protease enzyme which provides for even greater activity and a more potent, effective product.

How do you take Isotonix Bromelain Plus?
As the directions suggest, pour 1 level, white bottle capful of powder into a cup. Add 60 ml (line on the overcap indicates 60 ml) of water and stir. Take twice daily or as directed by your healthcare practitioner. Take with food. This product is isotonic only if the specified amounts of powder and water are used. For prolonged use, consult a healthcare practitioner.

Where does bromelain come from?
Bromelain is found in every part of the pineapple, although it is most plentiful in the stem. Most commercially-grown pineapple is sliced, canned or juiced. The remains are rich with this substance, which is then extracted. Originally used as a meat tenderizer because of its ability to break down proteins, research now shows that powdered bromelain promotes health.

Should I take Isotonix Bromelain Plus with Isotonix Peak Performance Blend?
Yes. Isotonix Bromelain Plus and Isotonix Peak Performance Blend complement each other nicely. Isotonix Peak Performance Blend, available on GLOBAL.SHOP.COM for personal consumption will help support your joint function and mobility, as well as the body's normal repair and healing process. Isotonix Bromelain Plus supports by providing another layer of protection.
Science
---
Akhtar NM, Naseer R, Farooqi AZ, Aziz W, Nazir M. Oral enzyme combination versus diclofenac in the treatment of osteoarthritis of the knee--a double-blind prospective randomized study. Clin Rheumatol. 2004 Oct;23(5):410-5. Epub 2004 Jul 24.
Batkin S, Taussig SJ, Szekerezes J. Antimetastatic effect of bromelain with or without its proteolytic and anticoagulant activity. J Cancer Res Clin Oncol 1988;114:507.
Bhattacharyya Barun. Bromelain: An Overview. Natural Product Radiance. 7(4):359-63, 2008.
Blonstein JL. Control of swelling in boxing injuries. Practitioner 1960; 185:78.
Brien S, Lewith G, Walker A, Hicks SM, Middleton D. Bromelain as a Treatment for Osteoarthritis: a Review of Clinical Studies. Evid Based Complement Alternat Med. Dec;1(3):251-257, 2004.
Bromelain Monograph. Alternative Medicine Review. 15: 361-368, 2010.
Chobotova K, Vernallis AB, Majid FA. Bromelain's activity and potential as an anti-cancer agent: Current evidence and perspectives. Cancer Lett. 28;290(2):148-56, 2010.
Cirelli M. Treatment of inflammation and edema with bromelain. A plant proteolytic enzyme concentrate. Del Med J. 1962 Jun;34:159-67, 1962.
Desser L, Rehberger A, Paukovits W. Proteolytic enzymes and amylase induce cytokine production in human peripheral blood mononuclear cells in vitro. Cancer Biother 1994;9:253-263.
Desser L, Rehberger A. Induction of tumor necrosis factor in human peripheral-blood mononuclear cells by proteolytic enzymes. Oncology 1990;47:475-477.
Desser L, Rehberger A, Kokron E, et al. Cytokine synthesis in human peripheral blood mononuclear cells after oral administration of polyenzyme preparations. Oncology 1993;50:403-407.
Gläser D, Hilberg T. The influence of bromelain on platelet count and platelet activity in vitro. Platelets. 2006 Feb;17(1):37-41.
Hale LP, Greer PK, Sempowski GD. Bromelain treatment alters leukocyte expression of cell surface molecules involved in cellular adhesion and activation. Clin Immunol 2002;104:183-90.
Heinicke RM, Van der Wal M, Yokoyama MM. Effect of bromelain on human platelet aggregation. Experientia 1972;28:844-845.
Kamenícek V, Holán P, Fran?k P. Systemic enzyme therapy in the treatment and prevention of post-traumatic and postoperative swelling. Acta Chir Orthop Traumatol Cech. 2001;68(1):45-9.
Kerkhoffs GM, Struijs PA, de Wit C, Rahlfs VW, Zwipp H, van Dijk CN. A double blind, randomised, parallel group study on the efficacy and safety of treating acute lateral ankle sprain with oral hydrolytic enzymes. Br J Sports Med. 2004 Aug; 38(4):431–435.
Klein G, Kullich W, Schnitker J, Schwann H. Efficacy and tolerance of an oral enzyme combination in painful osteoarthritis of the hip. A double-blind, randomised study comparing oral enzymes with non-steroidal anti-inflammatory drugs. Clin Exp Rheumatol. 24(1):25-30, 2006.
Masson M. Bromelain in blunt injuries of the locomotor system. A study of observed applications in general practice. Fortschr Med 1995;113:303-306.
Morita AH, Uchida DA, Taussig SJ. Chromatographic fractionation and characterization of the active platelet aggregation inhibitory factor from bromelain. Arch Inter Phar Ther 1979;239:340-350.
Müller S, März R, Schmolz M, Drewelow B, Eschmann K, Meiser P. Placebo-controlled randomized clinical trial on the immunomodulating activities of low- and high-dose bromelain after oral administration - new evidence on the antiinflammatory mode of action of bromelain. Phytother Res. 27(2):199-204, 2013.
Nieper HA. Effect of bromelain on coronary heart disease and angina pectoris. Acta Med Empirica 1978;5:274-278.
Nieper HA. Decrease of the incidence of coronary heart infarct by Mg- and K-orotate and bromelain. Acta Med Empirica 1977;12:614-618.
Nouza K. Physical activity and immune system. Systemic enzyme therapy in prevention and treatment. Medicina Sportiva Boh Slov. 1997; 6(2):41–45.?
Rajendra Pavan, Sapna Jain, Shraddha, Ajay Kumar. Properties and Therapeutic Application of Bromelain: A Review. Biotechnol Res Int. 1-6, 2012 .
Seligman B. Oral bromelain as adjuncts in the treatment of acute thrombophlebitis. Angiology 1969;20:22-26.
Singer F., Singer C., Oberleitner H. Phlogenzym® versus Diclofenac in the treatment of activated osteoarthritis of the knee. A double-blind prospective randomized study. Int. J. Immunotherapy. 17: 135-14, 2001.
Tassman GC, Zafran JN, Zayon GM. Evaluation of a plant proteolytic enzyme for the control of inflammation and pain. J Dent Med 1964;19:73-77.
Tassman GC, Zafran JN, Zayon GM. A double-blind crossover study of a plant proteolytic enzyme in oral surgery. J Dent Med 1965;20:51-54.
Taussig SJ, Batkin S. Bromelain, the enzyme complex of pineapple (Ananas comosus) and its clinical application. An update. J Ethnopharmacol 1988;22:191-203.
Taussig SJ, Szekerczes J, Batkin S. Inhibition of tumor growth in vitro by bromelain, an extract of the pineapple plant (Ananas comosus). Planta Med 1985;6:538-539.
Tilwe GH, Beria S, Turakhia NH, Daftary GV, Schiess W. Efficacy and tolerability of oral enzyme therapy as compared to diclofenac in active osteoarthrosis of knee joint: an open randomized controlled clinical trial. J Assoc Physicians India. 49:617-21, 2001.
Vellini M, Desideri D, Milanese A, et al. Possible involvement of eicosanoids in the pharmacological action of bromelain. Arzneimittelforschung 1986;36:110-112.
Walker AF, Bundy R, Hicks SM, Middleton RW. Bromelain reduces mild acute knee pain and improves well-being in a dose-dependent fashion in an open study of otherwise healthy adults. Phytomedicine. 2002 Jan 1;9(8):681-6.
Reviews
---
Displaying reviews
1 - 5

of

24
This product works as expected. It balanaces out my lack of proper nutrician,
Response from Customer Service:
Dear Valued Customer,

Thank you for taking the time to share your thoughts on the Isotonix® Bromelain Plus! We are so happy to hear you are pleased with the product!

Thank you again!
The Product Information Team
I've been taking the Bromelain with digestive enzymes and opc3 as a bedtime cocktail. Not only am I getting a deeper more restful night sleep but I'm waking up easier and more energized.
Response from Customer Service:
Dear Valued Customer,

Thank you for taking the time to share your thoughts on the Isotonix® Bromelain Plus! We are so happy to hear you are pleased with the product!

Thank you again!
The Product Information Team
Great for people who work out
I workout 5-6 times a week and this does amazing things for muscle soreness. Definitely a must try!
Response from Customer Service:
Dear Valued Customer,

Thank you for taking the time to share your thoughts on the Isotonix Bromelain Plus! We are happy to hear you are pleased with the product.

Thank you again!
The Product Information Team
I had an ACL reconstruction on my left knee. To no surprise, my knee was swollen to almost twice the size and was on crutches and had blue spots and scars on the knee in the following week. After 4-5 days of taking bromelain, 4-5 caps about 3 times a day, my knee swelling was almost 90% gone and my knee had heeled to a point my scars were almost not visible. Even my doctor was surprised.
Second, since i work out 4 times a week, I take this daily as a muscle healing supplement (post workout) and it truly tastes amazing.
Lastly, since it's a protease I take it before taking/after taking as a digestive aid as well.
I seriously don't know how I survived without it before.
A must have around the house!
This product has been such a blessing! It's my go to whenever I have any inflammation related pains in joints or muscles. It has helped me with an ankle issue, back issue, and facial nerve issues. Has helped reduce recovery time and I can feel almost immediate relief when I take this product. Definitely would recommend to everyone to keep a bottle in the house for any inflammation related emergency.
Response from Customer Service:
Dear Valued Customer,

Thank you for taking the time to share your thoughts on the Isotonix® Bromelain Plus! We are happy to hear you are pleased with the product.

Thank you again!
The Product Information Team