Product info
Product Classifications
---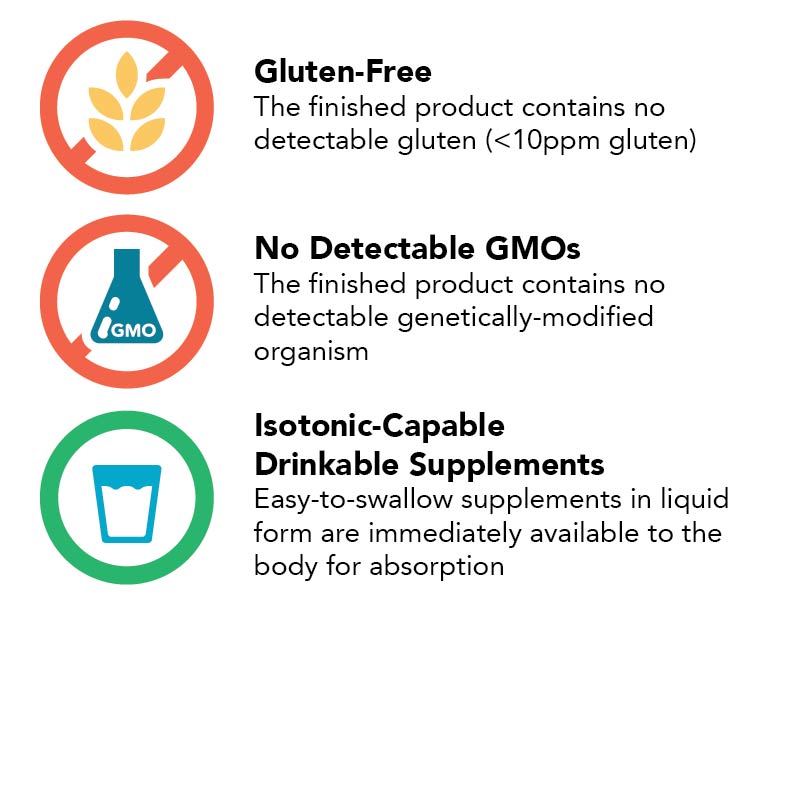 Gluten-Free – the finished product contains no detectable gluten (<10ppm gluten)

No Detectable GMOs – the finished product contains no detectable genetically-modified organism

Isotonic-capable Drinkable Supplements – easy-to-swallow supplements in liquid form are immediately available to the body for absorption
Why Prime Joint Support Formula by Isotonix is the best!
---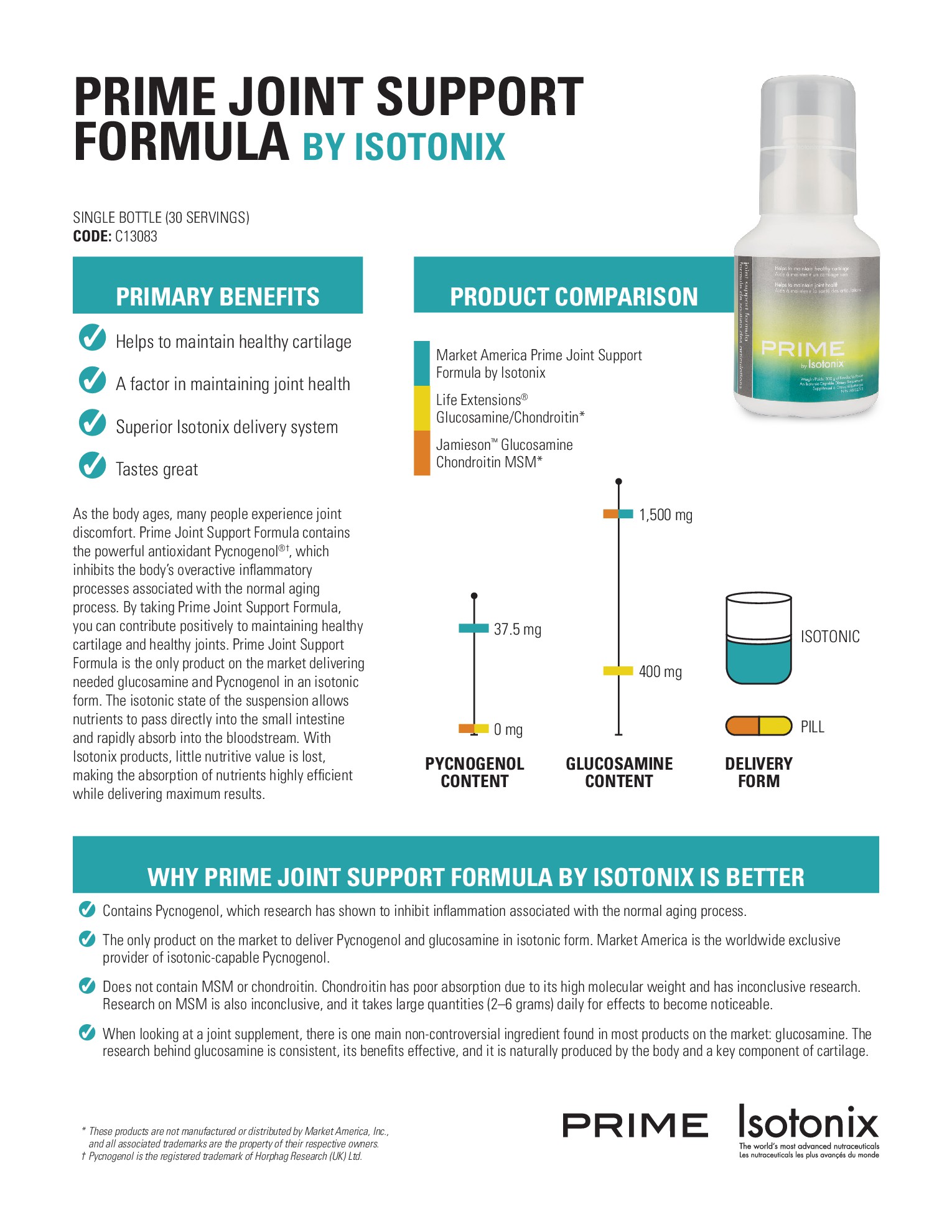 As the body ages, many people experience joint discomfort. One option is to take a joint supplement to help promote overall bone and joint health. When looking at a joint supplement, there is one main non-controversial ingredient found in most products on the market, glucosamine. The research behind glucosamine is consistent and its benefits effective. Prime Joint Support Formula contains glucosamine, naturally produced by the body and a key component of cartilage. An aminomonosaccharide (a combination of the amino acid — glutamine and a sugar — glucose), glucosamine is concentrated in joint cartilage and has been scientifically proven to support healthy joint function and promote the normal production of synovial fluid, which lubricates your joints and regenerates cartilage.

Prime Joint Support Formula also contains the powerful antioxidant Pycnogenol, which science has shown to inhibit the body's overactive inflammatory processes associated with the normal aging process. The body's inflammatory response is a natural process. It is an essential component of the body's defense system and can be triggered from numerous internal and external factors. Pycnogenol has been shown to help support the body's defense system by inhibiting overactive inflammatory responses associated with the normal aging process. Furthermore, Prime Joint Support Formula is the only product on the market delivering glucosamine and Pycnogenol in isotonic form.

Why the Isotonix® Delivery System is Great!
---
Isotonix Delivery System
---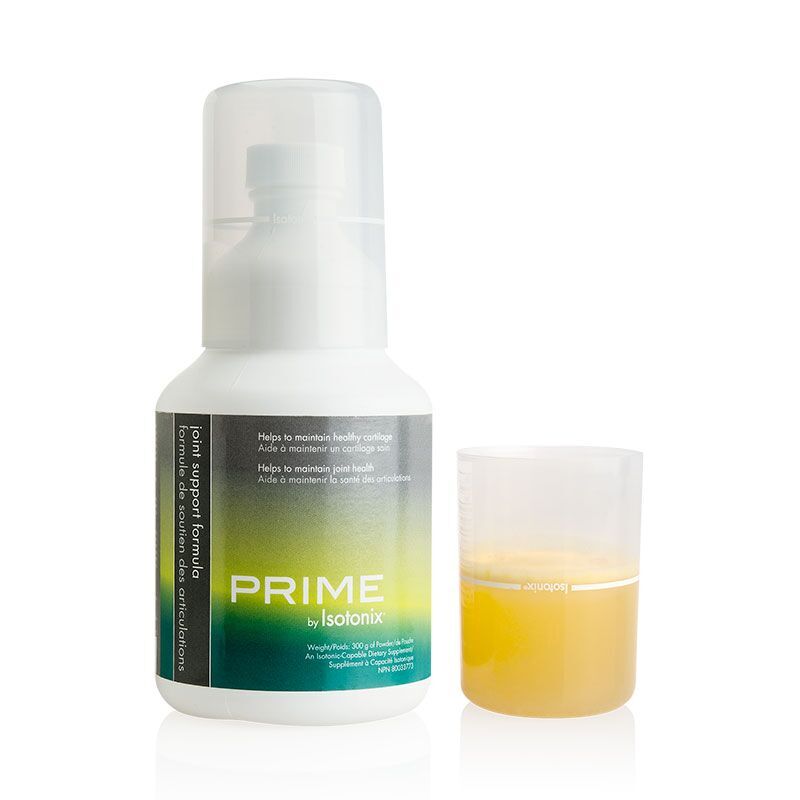 Isotonix- the World's Most Advanced Nutraceuticals
Isotonic, which means "same pressure," bears the same chemical resemblance of the body's blood, plasma and tears. All fluids in the body have a certain concentration, referred to as osmotic pressure. The body's common osmotic pressure, which is isotonic, allows a consistent maintenance of body tissues. In order for a substance to be absorbed and used in the body's metabolism, it must be in an isotonic state. Isotonix dietary supplements are delivered in an isotonic solution. This means that the body has less work to do to obtain maximum absorption of the nutrients. The isotonic state of the suspension allows nutrients to pass directly into the small intestine and rapidly absorb into the bloodstream. With Isotonix products, little nutritive value is lost, making the absorption of nutrients highly efficient while delivering maximum results.
Ingredients
---
Glucosamine (HCl)
Glucosamine is a molecule that is naturally synthesized in the body from glucose and the amino acid glutamine. Glucosamine is an important constituent of glycosaminoglycans in cartilage matrix and synovial fluid. As our bodies age, we are less able to produce glucosamine, resulting in cartilage that is less flexible and weak. Although the mechanism is currently unclear, studies have shown that glucosamine supplementation can support normal, healthy cartilage cell production to help maintain overall joint health.

Pine Bark Extract (Pycnogenol)
Pycnogenol is a water-soluble flavonoid complex with powerful benefits. Pycnogenol, similar to the proanthocyanins found in grape seeds, is extracted from the bark of the French maritime pine tree. Numerous studies have examined the anti-inflammatory properties of Pycnogenol. The body's inflammatory response is a natural process. It is an essential component of the body's defense system, and can be triggered from numerous internal and external factors. Pycnogenol has been shown help maintain the body's natural defenses by inhibiting over active inflammatory responses associated with the normal aging process. Research has shown that Pycnogenol may inhibit the activation of NF-kappa B and AP-1, both of which are proinflammatory mediators. Pycnogenol supplementation can also promote normal COX-2 and 5-LOX gene expression and support healthy leukotriene biosynthesis. In addition, studies have shown the ability of Pycnogenol to cross-link collagen fibers and strengthen connective tissue proteins.
FAQ
---
What is the recommended dosage?
Pour 3 level, white bottle capfuls of powder into a cup. Add 6 fl. oz of (the line on the overcap indicates 2 fl. oz.) of water and stir. Maximum absorption occurs when taken with a meal. This product is isotonic only if the specified amounts of powder and water are used.

What other products should I take with Prime Joint Support Formula by Isotonix to support my joint health?
Heart Health Essential Omega III is a great pair with Prime Joint Support Formula, as omega III fatty acids have been shown to support healthy joint lubrication.

How often should I take Prime Joint Support Formula by Isotonix?
This product is most effective when taken daily.

How much Pycnogenol is in Prime Joint Support Formula by Isotonix?
There are 25 milligrams of Pycnogenol in each daily serving.

Who should not use this product?
Women who are pregnant or breastfeeding should not use this product. If you are currently taking warfarin (Coumadin) or any other antiplatelet/anticoagulant drugs, anti-hypertensive drugs, any prescription drug or have an ongoing medical condition, you should consult your healthcare provider before using this product. If you have a known allergy to shellfish, do not use this product.
Science
---
Barringer T et al. Potential Benefits on Impairment of Endothelial Function after a High-fat Meal of 4 weeks of Flavonoid Supplementation. Evidence-based Complementary and Alternative Medicine: eCAM. doi:10.1093/ecam/nen048: 1-6, 2008.
Belcaro, G., et al. Variations in C-reactive protein, plasma free radicals and fibrinogen values in patients with osteoarthritis treated with Pycnogenol. Redox Report. 13(6): 271-276, 2008.
Blewis, M., et al. A model of synovial fluid lubricant composition in normal and injured joints. European Cells and Materials. 13: 26-39, 2007.
Braham, R., et al. The effect of glucosamine supplementation on people experiencing regular knee pain. British Journal of Sports Medicine. 37(1): 45-49, 2003.
Canali, R., et al. The anti-inflammatory pharmacology of Pycnogenol in humans involves COX-2 and 5-LOX mRNA expression in leukocytes. International Immunopharmacology. 9(10): 1145-1149, 2009.
Cesarone MR et al. Improvement in circulation and in cardiovascular risk factors with a proprietary isotonic bioflavonoid formula OPC-3. Angiology. 59(4):408-14, 2008.
Cesarone MR et al. Accelerated antioxidant bioavailability of OPC-3 bioflavonoids administered as isotonic solution. Phytotherapy Research. 23(6):775-7, 2009.
Chou, M., et al. Effects of chondroitin and glucosamine sulfate in a dietary bar formulation on inflammation, interleukin-1beta, matrix metalloprotease-9, and cartilage damage in arthritis. Experimental Biology and Medicine. 230(4): 255-262, 2005.
Cisár, P., et al. Effect of pine bark extract (Pycnogenol) on symptoms of knee osteoarthritis. Phytotherapy Research. 22: 1087-1092, 2008.
Farid, R., et al. Pycnogenol supplementation reduces pain and stiffness and improves physical function in adults with knee osteoarthritis. Nutrition Research. 27: 692-697, 2007.
Gaby, A. Natural treatments for osteoarthritis. Alternative Medicine Review. 4(5): 330-341, 1999.
Gouze, J., et al. Exogenous glucosamine globally protects chondrocytes from the arthritogenic effects of IL-1beta. Arthritis Research and Therapy. 8(6): R173
Grimm, T., et al. Inhibition of NF-kappaB activation and MMP-9 secretion by plasma of human volunteers after ingestion of maritime pine bark extract (Pycnogenol). Journal of Inflammation. 3: 1-15, 2006.
Hua, J., et al. Inhibitory actions of glucosamine, a therapeutic agent for osteoarthritis, on the functions of neutrophils. Journal of Leukocyte Biology. 71(4): 632-640, 2002.
James, C. and Uhl, T. A review of articular cartilage pathology and the use of glucosamine sulfate. Journal of Athletic Training. 36(4): 413-419, 2001.
Laurent, T., et al. Functions of hyaluronan. Annals of the Rheumatic Disease. 54(5): 429-432, 1995.
Kelly, G. The role of glucosamine sulfate and chondroitin sulfates in the treatment of degenerative joint disease. Alternative Medicine Review. 3(1): 27-39, 1998.
Nakatani, S., et al. Glucosamine regulates differentiation of a chondrogenic cell line, ATDC5. Biological and Pharmaceutical Bulletin. 30(3): 433-438, 2007.
Natural Medicines Comprehensive Database- www.naturaldatabase.com Pycnogenol
NHPD database: Glucosamine HCl - 2009-June
Poustie, M., et al. N-butyryl glucosamine increases matrix gene expression by chondrocytes. Journal of Pharmacology and Experimental Therapeutics. 311(2): 610-616, 2004.
Reginster, J., et al. Current concepts in the therapeutic management of osteoarthritis with glucosamine. Bulletin (Hospital for Joint Disease). 63(1-2): 31-36, 2005.
Reginster, J., et al. Long-term effects of glucosamine sulphate on osteoarthritis progression: a randomized, placebo-controlled clinical trial. Lancet. 357(9252): 251-256, 2001.
Richy, F., et al. Structural and symptomatic efficacy of glucosamine and chondroitin in knee osteoarthritis: a comprehensive meta-analysis. Archives of Internal Medicine. 163(13): 1514-1522, 2003.
Rohdewald, P. A review of the French maritime pine bark extract (Pycnogenol), a herbal medication with a diverse clinical pharmacology. International Journal of Clinical Pharmacology and Therapeutics. 40(4):158-168, 2002.
Schäfer, A., et al. Inhibition of COX-1 and COX-2 activity by plasma of human volunteers after ingestion of French maritime pine bark extract (Pycnogenol). Biomedicine and Pharmacotherapy. 60: 5-9, 2006.
Reviews
---
Displaying reviews

1

-

5

of 100
Love this product
It works! I hate taking pills. So I can drink this and it really helps with my joints. I'm starting to get osteoarthritis which my mother had in her 50s. Lucky me I made it to the 70s but I can make a poultice with this too and wrap it on the outside of my finger.
Great product to stay active
As an active adult, it's no secret that the older we get the more challenging remaining active can become. I work out each week and play on a few adult sports teams as well. A few years ago, I tore my ACL and thought I would be done with sports and activity forever. I went through the surgery and PT and went back to the gym when I was allowed. Taking this product has made it so much easier to remain active and work back up to the activity level I was at pre-injury. My joints feel great and I could not live without this product!
Sorry you're having problems!
It makes me sad when I read about customers having such a difficult time pouring out the powder from the bottle. The person giving you this product is supposed to teach you how to take these products in an easy and convenient manner. There are two ways in which to use these powders: one is to prick a hole in the seal with a toothpick against one side of the rim of the bottle. That controls the amount of powder that comes out. Just tap the top of the mouth to get the flow of powder going. The second way is to have your distributor supply you with a plastic cap with a hole in the middle. As distributors, we can buy a package of these to give to our customers. If you are having difficulties, please get back to your distributor for help.
Response from Customer Service:
March 27, 2019
These are great, time proven recommendations for easy pouring of Isotonix Powder. Not only can the SHOP Consultant assist with product support, but the Product Information Department (ph: 336.389.6987 or email ps@marketamerica.com) is available to answer ANY questions on product or product usage.
Brilliant
I love this product, has helped so much with my knees and back.
Feeling Better!
I have been using the Prime Joint Support Formula for a while now. I fee like it helps my joints feel better. They aren't so stiff after a busy day. I give it a thumbs up!!