Product info
Primary Benefits of Pure Collagen
---
Contains 5g of hydrolysed collagen per serving
On-the-go product great for men or women
Delicious berry flavour to consume as is or add to your favourite beverage
Convenient and delicious way to get your daily collagen
Helps to reduce joint pain associated with osteoarthritis
Increasing the amount of collagen you consume can be beneficial to support your daily diet
A comprehensive collagen formula containing Type 1 and Type 3 Hydrolysed Collagen peptides (46%)
Ideal support of beauty from the inside out
Collagen is a major structural component of skin
No artificial colourings, flavourings or preservatives
Dairy, sugar and gluten free
Research shows that collagen is important for the following:
Helps maintain healthy skin elasticity, thickness and hydration1,2,3,4,7,16,22,25
Supports skin health1,2,3,4,7,16,22,25
Supports healthy collagen maintenance throughout the body1,19,24,26,28,31,32
Supports healthy bones8,10,13,15,18,30
May support joint health7,11,13,16,21,23,35
Protects and helps maintain hair and nail quality9,11,12,14,16
Supports bone health8,10,13,15,18,30
Supports healthy joint tissue health & function involving cartilage, tendons & ligaments7,11,13,16,21,23,35
May help maintain muscle strength16,23,33,29
May support a healthy gut lining6,17,27
The aforementioned has not been approved or considered by Health Canada. The aforementioned are findings made in diverse scientific studies regarding the collagen.
Product Classifications
---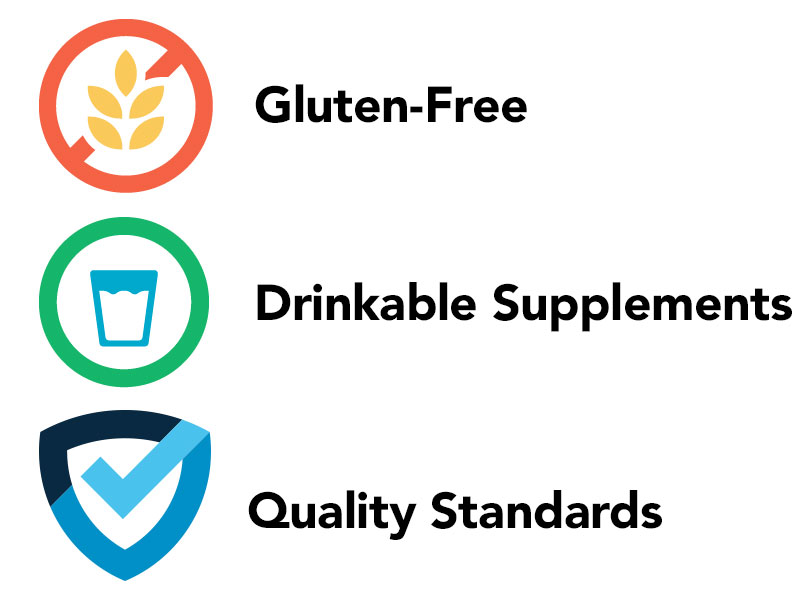 Gluten-Free - The finished product contains no detectable gluten (<10ppm gluten)
Drinkable Supplements - Easy-to-swallow supplements in liquid form are immediately available to the body for absorption
Quality Standards - GMP Operations and Standardized Ingredients
Checked For: Heavy Metals, Microbiological Contaminants, Allergens, Residual Solvents, Potency, Purity and Identity
Why should you choose Pure Collagen?
---
Over the years, wear and tear on skin, hair, bone and joints become more prevalent. Ultimately, this wear and tear can result in dry and wrinkled skin, joint aches, and weakened bones. Our bodies depend on their natural collagen production to maintain skin elasticity and provide structural support in connective tissues, muscles and joints. However, as we age the production of this vital protein begins to slow down and increasing the amount of collagen you consume can be beneficial. Pure Collagen offers a comprehensive collagen formula hydrolysed into small bioavailable peptides. Pure Collagen is ideal for anyone concerned about beauty from the inside out and wants a convenient and delicious way to get their daily collagen, especially for those always on-the-go.
Often referred to as a "complex protein," collagen contains a plethora of different amino acids, including hydroxyproline, which does not occur in other proteins, and is found everywhere in the body. Studies show that it is one of the most plentiful proteins in mammals as it is responsible for several biological functions. Because collagen is a unique type of protein accounting for as much as 30% of the body's total protein, it is an essential component of our dietary regimen. Pure Collagen is especially unique because it offers 5 grams of hydrolysed collagen, which is generous compared to other collagen products.
It is often assumed that collagen products can only benefit women versus men due to their association with beauty products. While it is true that collagen is typically marketed as a great skin health product for women, this does not limit it to a specific gender; collagen helps to reduce joint pain associated with osteoarthritis which is essential to both women and men. Pure Collagen makes for an easy on-the-go product due to its nifty packaging in small vials, convenient for both travel and work.
Pure Collagen can be taken by itself or can be mixed with your favourite beverage, allowing it to be as light or flavourful as you may like. We suggest you consume one vial per day for optimal results.
Introducing Pure Collagen!
---
Key Ingredients In Pure Collagen
---
Key factors about collagen:
Collagen is a structural protein (long chain of amino acids) found in our bodies. It is the most abundant protein in the body and has a unique amino acid profile. As such, collagen is a major component of bones, skin, muscles, tendons and ligaments. It provides structure to these areas and functions to hold all these things together. Many people think of it as a "glue" and actually the word collagen comes from the Greek word "kola", which means glue. There are different types of collagen, but I, II, and III are the major types and each can function in different aspects of the body. Primarily, collagen types I and III are grouped together because they are the most abundant and have similar functions. They are best for skin, hair, bone and muscle health. Studies have shown collagen peptides provide numerous beneficial effects on skin by helping to promote skin elasticity, thickness and hydration.
Other research shows the important role of collagen for bone health and strength. Type II collagen is heavily concentrated in cartilage and therefore has been shown as most effective for joint health. However, there is research that shows types I and III also have benefits on joint health. After collagen is absorbed in the body, it works in the various tissues where cells will build the peptides into complete collagen that support the areas that need it – skin, hair, bone, muscle, joint, etc. Hydrolysed collagen peptides refer to collagen that has been broken down into much shorter chains of amino acids, which creates a form that is better absorbed into the bloodstream. As we age, collagen levels in the body decline, which helps explain the negative changes with regards to skin, hair, bones and muscles. Consuming collagen on a daily basis may be beneficial for healthy aging because of its unique role in helping to maintain and support the important aspects of skin, hair, bone, joint and muscle health!
Frequently Asked Questions about Pure Collagen
---
What is collagen?
Collagen is the most abundant protein in the human body. It is found in bones, muscles, skin and tendons. Collagen provides structure to the body and helps to hold tissue together.
What is the source of collagen?
Collagen is a natural substance derived from pork and fish skin/scales. Our collagen is made of porcine and fish.
Why is collagen hydrolysed?
Hydrolysed collagen has been broken down into smaller amino acid chains or segments known as collagen peptides. This process improves absorption and bioavailability of the collagen for the building blocks of our bodies.
Can my child take collagen?
Collagen is very safe to take. We recommend that you talk with your pediatrician before introducing your child to collagen, as each child's nutritional needs will differ.
What does Pure Collagen taste like?
Pure Collagen is berry flavoured.
What time of day should I take the product?
Pure Collagen may be taken any time of day, with or without food.
What types of collagen does Pure Collagen contain?
Type 1 and Type 3.
Does Pure Collagen need to be refrigerated?
No; however, if you like to take Pure Collagen cold, you may refrigerate it.
Does Pure Collagen have any known allergens?
Yes. Pure Collagen contains fish (cod).
When can I expect to notice a difference in my hair, skin and nails?
Results may vary. We suggest consuming collagen on a daily basis and evaluate around 8 weeks.
What can I mix Pure Collagen with?
Pure Collagen may be taken by itself as it has a nice blue raspberry flavour, however, you may also mix Pure Collagen with water or a preferred beverage to your taste.
Can both men and women take Pure Collagen?
Yes. Both men and women can benefit from adding collagen to their daily regimen.
Can I take Pure Collagen with my Isotonix® Women's Health?
Yes. These two products complement each other well and may be used together.
Can I mix Pure Collagen with Isotonix® products?
Yes. Just add the Pure Collagen liquid to the cup first before adding water to the fill line.
Scientific Studies supporting Pure Collagen
---
Asserin, J., Lati, E., Shioya, T. and Prawitt, J. (2015), The effect of oral collagen peptide supplementation on skin moisture and the dermal collagen network: evidence from an ex vivo model and randomized, placebo‐controlled clinical trials. J Cosmet Dermatol, 14: 291-301. doi:10.1111/jocd.12174
Bolke L., Schlippe G., Gerß J., Voss W. A collagen supplement improves skin hydration, elasticity, roughness, and density: Results of a randomized, placebo-controlled, blind study. Nutrients. 2019;11:2494. doi: 10.3390/nu11102494.
Borumand, Maryam, and Sara Sibilla. Effects of a nutritional supplement containing collagen peptides on skin elasticity, hydration and wrinkles. Journal of Medical Nutrition and Nutraceuticals, vol. 4, no. 1, 2015, p. 47. Gale OneFile: Health and Medicine.
Choi FD. Oral Collagen Supplementation: A Systematic Review of Dermatological Applications. J Drugs Dermatol. 2019 Jan 1;18(1):9-16.
Clark, K. L., Sebastianelli, W., Flechsenhar, K. R., Aukermann, D. F., Meza, F., Millard, R. L., Albert, A. (2008). 24-Week study on the use of collagen hydrolysate as a dietary supplement in athletes with activity-related joint pain. Current Medical Research and Opinion, 24(5), 1485–1496. doi: 10.1185/030079908X291967
Cortney R. Ballengee, Ryan W. Stidham, Chunyan Liu, et al. Association Between Plasma Level of Collagen Type III alpha 1 Chain and Development of Strictures in Pediatric Patients With Crohn's Disease. Clin Gastroenterol Hepatol. 2019 Aug; 17(9): 1799–1806. Published online 2018 Sep 10. doi: 10.1016/j.cgh.2018.09.008
Czajka A., Kania E.M., Genovese L., Corbo A., Merone G., Luci C., Sibilla S. Daily oral supplementation with collagen peptides combined with vitamins and other bioactive compounds improves skin elasticity and has a beneficial effect on joint and general wellbeing. Nutr. Res. 2018;57:97–108. doi: 10.1016/j.nutres.2018.06.001
Daneault, A. (2014). Hydrolysed collagen contributes to osteoblast differentiation in vitro and subsequent bone health in vivo. Osteoarthritis and Cartilage, 22. doi: 10.1016/j.joca.2014.02.240
Glynis A. A Double-blind, Placebo-controlled Study Evaluating the Efficacy of an Oral Supplement in Women with Self-perceived Thinning Hair. The Journal of Clinical and Aesthetic Dermatology. 2012 Nov;5(11):28-34.
Guillerminet F, Beaupied H, Fabien-SouléV, Tomé D, Benhamou CL, Roux C, et al. A. Hydrolysed collagen improves bone metabolism and biomechanical parameters in ovariectomized mice: an in vitro and in vivo study. Bone 2010;46(3):827-34.
Hashim, P., Mohd Ridzwan, M. S., Bakar, J., & Mat Hashim, D. (2015). Collagen in food and beverage industries. International Food Research Journal, 22(1), 1–8
Hexsel, D, Zague, V, Schunck, M, Siega, C, Camozzato, FO, Oesser, S. Oral supplementation with specific bioactive collagen peptides improves nail growth and reduces symptoms of brittle nails. J Cosmet Dermatol. 2017; 16: 520– 526. https://doi.org/10.1111/jocd.12393
Jackix EA, Cúneo F, Amaya-Farfan J, Assunção JV, Quintaes KD. A food supplement of hydrolysed collagen improves compositional and biodynamic characteristics of vertebrae in ovariectomized rats. J Med Food 2010;13(6):1-6.
Jacquet, A., Coolen, V. & Vandermander, J. Effect of dietary supplementation with INVERSION® femme on slimming, hair loss, and skin and nail parameters in women. Adv Therapy 24, 1154–1171 (2007) doi:10.1007/BF02877721
Kim, H.K.; Kim, M.-G.; Leem, K.-H. Osteogenic Activity of Collagen Peptide via ERK/MAPK Pathway Mediated Boosting of Collagen Synthesis and Its Therapeutic Efficacy in Osteoporotic Bone by Back-Scattered Electron Imaging and Microarchitecture Analysis. Molecules 2013, 18, 15474-15489.
King`ori, A. (2011). A Review of the Uses of Poultry Eggshells and Shell Membranes. International Journal of Poultry Science, 10(11), 908–912. doi: 10.3923/ijps.2011.908.912
Kjeldsen J, Schaffalitzky de Muckadell OB, Junker P. Seromarkers of collagen I and III metabolism in active Crohn's disease. Relation to disease activity and response to therapy. Gut. 1995;37(6):805–810. doi:10.1136/gut.37.6.805
König D, Oesser S, Scharla S, Zdzieblik D, Gollhofer A. Specific Collagen Peptides Improve Bone Mineral Density and Bone Markers in Postmenopausal Women—A Randomized Controlled Study. Nutrients. 2018; 10(1):97.
León-López A, Morales-Peñaloza A, Martínez-Juárez VM, Vargas-Torres A, Zeugolis DI, Aguirre-Álvarez G. Hydrolysed Collagen-Sources and Applications. Molecules. 2019;24(22):4031. Published 2019 Nov 7. doi:10.3390/molecules24224031
Lodish, Harvey, et al. "Collagen: the fibrous proteins of the matrix." Molecular Cell Biology4 (2000).
Patrick Dressler, Dominic Gehring, Denise Zdzieblik, Steffen Oesser, Albert Gollhofer, Daniel König. Improvement of Functional Ankle Properties Following Supplementation with Specific Collagen Peptides in Athletes with Chronic Ankle Instabilit J Sports Sci Med. 2018 Jun; 17(2): 298–304.
Proksch, E & Schunck, Michael & Zague, V & Segger, Dörte & Degwert, Joachim & Oesser, S. (2013). Oral Intake of Specific Bioactive Collagen Peptides Reduces Skin Wrinkles and Increases Dermal Matrix Synthesis. Skin pharmacology and physiology. 27. 113-119. 10.1159/000355523.
Qurratul-Ain Dar, Eric et al. Daily oral consumption of hydrolysed type 1 collagen is chondroprotective and anti-inflammatory in murine posttraumatic osteoarthritPLoS One. 2017; 12(4):e0174705. Published online 2017 Apr 6. doi: 10.1371/journal.pone.0174705
Sato K1. The presence of food-derived collagen peptides in human body-structure and biological activity. Food Funct. 2017 Dec 13;8(12):4325-4330. doi: 10.1039/c7fo01275f.
Schwartz SR, Park J. Ingestion of BioCell Collagen (®), a novel hydrolysed chicken sternal cartilage extract; enhanced blood microcirculation and reduced facial aging signs. Clinical Interventions in Aging. 2012 ;7:267-273. DOI: 10.2147/CIA.S32836.
Sibilla, S., Godfrey, M., Brewer, S., Budh-Raja, A., & Genovese, L. (2015). An Overview of the Beneficial Effects of Hydrolysed Collagen as a Nutraceutical on Skin Properties: Scientific Background and Clinical Studies. The Open Nutraceuticals Journal, 8(1), 29–42. doi: 10.2174/1876396001508010029
Song W, Chen Q, Wang Y, Han Y, Zhang H, Li B. Identification and Structure-Activity Relationship of Intestinal Epithelial Barrier Function Protective Collagen Peptides from Alaska Pollock Skin. Mar Drugs. 2019;17(8):450. Published 2019 Jul 31. doi:10.3390/md17080450
Taga Y et al. Improved in Vivo Tracking of Orally Administered Collagen Hydrolysate Using Stable Isotope Labeling and LC-MS Techniques. J Agric Food Chem. 2019 Apr 24;67(16):4671-4678. doi: 10.1021/acs.jafc.9b00571. Epub 2019 Apr 9.
Vanessa Oertzen-Hagemann, Marius Kirmse, Britta Eggers, Kathy Pfeiffer, Katrin Marcus, Markus de Marées, Petra Platen. Effects of 12 Weeks of Hypertrophy Resistance Exercise Training Combined with Collagen Peptide Supplementation on the Skeletal Muscle Proteome in Recreationally Active Men. Nutrients. 2019 May; 11(5): 1072. Published online 2019 May 14. doi: 10.3390/nu11051072
Viguet-Carrin S, Garnero P, Delmas PD. The role of collagen in bone strength. Osteoporosis International: a Journal Established as Result of Cooperation between the European Foundation for Osteoporosis and the National Osteoporosis Foundation of the USA. 2006 ;17(3):319-336. DOI: 10.1007/s00198-005-2035-9.
Yasutaka Shigemura, Yu Iwasaki, Mana Tateno, Asahi Suzuki, Mihoko Kurokawa, Yoshio Sato, Kenji Sato. A Pilot Study for the Detection of Cyclic Prolyl-Hydroxyproline (Pro-Hyp) in Human Blood after Ingestion of Collagen Hydrolysate. Nutrients. 2018 Oct; 10(10): 1356. Published online 2018 Sep 22. doi: 10.3390/nu10101356
Zague, Vivian, et al. "Collagen Hydrolysate Intake Increases Skin Collagen Expression and Suppresses Matrix Metalloproteinase 2 Activity." Journal of Medicinal Food, vol. 14, no. 6, 2011, pp. 618–624., doi:10.1089/jmf.2010.0085.
Zdzieblik D et al. Collagen peptide supplementation in combination with resistance training improves body composition and increases muscle strength in elderly sarcopenic men: a randomised controlled trial. Br J Nutr. 2015 Oct 28;114(8):1237-45. doi: 10.1017/S0007114515002810.
Zdzieblik, Denise, et al. "Collagen peptide supplementation in combination with resistance training improves body composition and increases muscle strength in elderly sarcopenic men: a randomised controlled trial." British Journal of Nutrition8 (2015): 1237-1245.
Zhang, L. L., Wei, W., Xiao, F., Xu, J. H., Bao, C. D., Ni, L. Q., & Li, X. F. (2008). A randomized, double‐blind, multicenter, controlled clinical trial of chicken type II collagen in patients with rheumatoid arthritis. Arthritis & Rheumatism, 59(7), 905–910. doi: 10.1002/art.23824
Reviews
---
Displaying reviews

1

-

5

of 9
Great Tasting
Love this product! When I mix it with beauty blend it tastes fantastic and I noticed improvements in my skin after I finished the first box. Would highly recommend.
Supplements
Love this product its amazing
Response from Customer Service:
July 9, 2021
Dear Valued Customer,

Thank you for taking the time to share your thoughts on the Pure Collagen! We are so happy to hear you are pleased with this product.

Thank you again!
The Product Information Team
Exceeded expectations
I am very pleased with Pure Collagen excellent taste and texture I am just adding to my water in the morning and my skin tone and my joints fell amazing. Excellent product highly recommended!
Response from Customer Service:
March 15, 2021
Dear Valued Customer,

Thank you for taking the time to share your thoughts on the Pure Collagen! We are happy to hear you are pleased with the product.

Thank you again!
The Product Information Team
LOVE IT
I love the collagen so much! There are collagen supplements on the market that you actually have to plug your nose to be able to drink but this one tastes sooo good! I'm able to enjoy it in my water and it feels like i'm just drinking a blue raspberry cocktail! haha.
I also love that they come in these convenient individual vials, perfect for on-the-go!
I'm looking forward to my amazing results!
Response from Customer Service:
March 4, 2021
Dear Valued Customer,

Thank you for taking the time to share your thoughts on the Pure Collagen! We are happy to hear you are pleased with the product.

Thank you again!
The Product Information Team
OBSESSED
This product is phenomenal and after my first box I already felt and saw a difference in my skin's elasticity and my mobility through joints. It also tastes DELICIOUS and that is very hard to find in a collagen supplement. You can mix it with hot or cold beverages too! So yummy!
Response from Customer Service:
March 1, 2021
Dear Valued Customer,

Thank you for taking the time to share your thoughts on the Pure Collagen! We are happy to hear you are pleased with the product.

Thank you again!
The Product Information Team